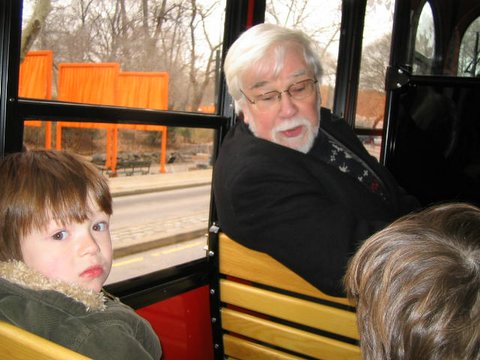 The below were mostly rescued from Google, 19 August 2005; somebody needed to do this. Needs more organization & updating. Compiled by Dan Visel, email dbvisel AT gmail.com. I am not, of course, William S. Wilson, just a friend.
---
4 February 2016: Bill Wilson passed away on Monday 1 February 2016. Like many others, I will miss him tremendously. I'll gather notes and post them here as I find them or as people send them. His family's announcement:
Dear Friends,

We are writing with the sad news that our father, Bill Wilson, died on Monday February 1st, 2016. He suffered a swift heart attack following cancer surgery. We were relieved that his daughter-in-law Mary was by his side at the time.

He is of course deeply missed by his family, including our spouses and partners—Mary, Stephanie Grant, and Aseel Sawalha—and Bill's four grandchildren—Jackson, Alex, Augusta, and Josephine.

There will be a small, private memorial gathering for his family and friends, and we warmly invite you to join us there: Sunday, February 7th, 2016, from 4–6 pm in Reddens Funeral Home (325 West 14th Street, New York, 10014). Neither RSVP nor flowers are necessary.

Please know that other well-wishers will be invited to join us in a larger birthday celebration memorial in early April this year.

The first formal obituary is copied below and will be published in the New York Times this Friday and Sunday.

With warm regards,
Kate Wilson, Ara Wilson, Andrew Wilson
William S. Wilson III (1932–2016)

William S. Wilson, 83, beloved brother, father and grandfather, died in Manhattan on Monday, February 1, 2016 from cardiac arrest. Born in Baltimore, April 7, 1932, he was raised in Maryland, attended the University of Virginia for his B.A., and Yale University for his Ph.D. He taught college as a professor of English in Queens College, City University of New York from 1962 until his retirement in the early 1990s. While raising three children in Chelsea, he published a collection of short stories, Why I Don't Write Like Franz Kafka (1975), and the novel Birthplace (1982). The son of assemblage artist May Wilson, he was deeply involved in the post-war New York art world, the subject of his numerous published essays. Survivors include his sister, Betty Jane Butler, children Katherine, Ara and Andrew and grandchildren Jack, Alex, Augusta and Josephine. In lieu of flowers, contributions may be offered in his honor to PBS public television or the High Line or the Baltimore Museum. A celebratory birthday memorial is planned for early April, 2016, in Manhattan.
---
Books
(See this LibraryThing page.)
---
Stories/articles
Paris Review 70 (summer 1977), includes "Conveyance: 'The story I would never want Bill Wilson to read'". On Amazon, Bookfinder, LibraryThing.
Antaeus 19 (autumn 1975); includes Joseph McElroy's "Wilson's Métier," on Wilson's fiction. On Amazon, Bookfinder, LibraryThing.
Antaeus 20 (winter 1976). On Amazon, Bookfinder, LibraryThing.
Antaeus 21/22 (spring/summer 1976). On Amazon, Bookfinder.
TriQuarterly 34 (fall 1975), includes "Desire," pp. 58–61. On Amazon, Bookfinder.
Ray Johnson: Correspondences, ed. Donna De Salvo, Flammarion, 1999. Includes "Ray Johnson: the one and the other." On Amazon, LibraryThing.
William S. Wilson, "Exegetical Grammar in the House of Fame," English Language Notes 1 (1964), 244–288.
William S. Wilson, "Scholastic Logic in Chaucer's House of Fame," Chaucer Review, i, 3 (Winter 1967), 181–184.
William S. Wilson, "Picasso," Art Journal, 56, 1 (Spring 1997), pp.88–93.
---
Online documents
The Big Book. Review of The Big Book by Alison Knowles from Art in America, referenced here.
The Big Book. Another review of The Big Book by Alison Knowles, this one from the Journal of Typographical Research.
---
Appearances
Short biography at FC2
Mention in a Joseph Taibbi review at EBR
Review of Black Mountain College Dossiers No. 4: Ray Johnson and Daniel Wenk's The Truth on Tape
Bits of a letter feature in a Joseph Taibbi piece on Daniel Wenk
A mention of Why I Don't . . . from the same piece
A mention in Trey Strecker's "The Mind Fields of Joseph McElroy"
A mention on mail art & artists
Another Ray Johnson bibliography, compiled with Bill's help
Appearance of "interim" (published in Anteus 25, 1977) in a mammoth science fiction bibliography
Mention of WSW's review of Ernest Samuels's Bernard Berenson: The Making of a Legend in American Book Review, Vol. 11, No. 4, Sept/Oct 1989
Mention of WSW's review of Jay David Bolter's Writing Space: The Computer, Hypertext, and the History of Writing and George P. Landow's Hypertext in American Book Review, Vol. 14, No. 2, June/July 1992
Birthplace mentioned as a nominee for the PEN/Faulkner award in 1983
Matthew Rose: "Some Assembly Required" (about Ray Johnson, includes WSW correspondence)
Jeanne Marie Kusina: "The Evolution and Revolutions of the Networked Art Aesthetic" (about Ray Johnson, includes WSW correspondence)
Bill Wilson failing to appear in How to Draw a Bunny
WSW's name appearing in Ray Johnson's work
Brief mention of WSW's writing for Artforum in a piece by Joseph Masheck
Press release for a show at the Padiglione d'Arte Contemporanea; the catalogue includes an essay by WSW on Massimo Bartolini
A mention in The Economist's review of Michael Kimmelman's The Accidental Masterpiece: on the art of life and vice versa
Excerpt from Robert L. Schwarz's Why I Don't Write Like William S. Wilson
Mention w/r/t to Ray Johnson's green shoe box at warholstars.org
Another mention at warholstars.org, this time including Valerie Solanas
Several mentions in a John Suiter article on Ray Johnson, originally from the Independent on Sunday
Excerpt of a review (from Art in America, July/August 1968) of Alison Knowles's The Big Book (reprinted in full here).
---
A compilation of postings rescued from the Web, vaguely sorted.
Ray Johnson
May Wilson
Marcel Duchamp
Andy Warhol
Christo & Jeanne-Claude
Pablo Picasso
Art & artists (more generally)
Joseph McElroy
Hardt & Negri
---
Traces
---
Wilson-confusion