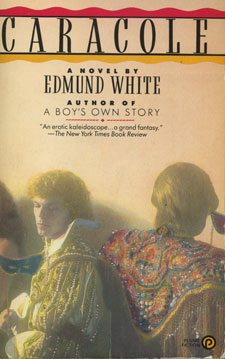 Edmund White
Caracole
(Plume, 1986)
---
Edmund White's narrative works might be divided into four categories: first, the obliquely fabulist early novels which are relatively forgotten (Forgetting Elena, Nocturnes for the King of Naples); second, the autobiographical fiction he's best known for (A Boy's Own Story on); third, the memoirs (My Lives, City Boy); and fourth, the historical fiction (Fannie: A Fiction, Hotel de Dream). There's a rough chronological progression across these forms: autobiographical novels lead fairly naturally to memoirs. His biographies might be lumped in that third category; and it's a small jump to go from writing biography to fictionalizing biography in his historical fiction. This isn't a straight progression, of course: not everything fits into this rough schema. Caracole came out in 1985, after White had moved into autobiographical fiction; however, it hews much more closely to the mould of his first two novels. After reading White's other works, however, one finds the autobiographical elements in this book can't entirely be ignored. In City Boy, for example, White notes that his portrayal of Susan Sontag and her son in this book led to a break with them: reading it now, in the light of White's subsequent autobiographical work, it's hard to avoid this element of the book. A cosmopolitan uncle who rescues a nephew from an intractable home situation clearly has parallels in White's own life in the 1970s; but most of the other characters in this book resist immediate identification.
This is not a roman à clef: this is the straightest of White's books, and pseudoreality prevails, as it does in Proust's The Captive and The Fugitive. At the same time, one understands, reading this book, why White would have shared an issue of the Review of Contemporary Fiction with Samuel R. Delany, as this isn't a world away from the spirit of Delany's Nevèrÿon fantasies. The setting is a city: White's description of the book in City Boy suggests that it's nineteenth-century Venice, but abundant indirection makes it clear that the city is not entirely a resurrected version of that city, though it is marine, does have carnivals, and many of its characters sport Italian names. Bits of Rome's geography are recognizable, and there's a distinction between a lazy South and an industrious North. The first chapter begins in a crumbling rural villa, a setting almost Southern gothic; mention of conquerers suggests empire, but not quite a recognizable one. Christianity doesn't seem to exist, perhaps a nod to Carlo Levi's "Christ stopped at Eboli"; those outside the city are described as living in tribes, and there are other kingdoms. Courtliness is emphasized inside the city; but the interactions of the characters might be those of New York in the 1970s. This is an imagined world: though one that, like all fiction, takes the outside world with it.
The first chapter depicts the novel's young protagonist, Gabriel, in his decaying home in the countryside; he lives with his corpulent mother and feral younger siblings, visited occasionally by a distant father. In the woods, he finds a girl, Angelica; he marries her in her tribe's ceremonies, but is discovered by his father, who, in cahoots with his mistress, confines him in a cage. Angelica summons his powerful uncle in the city to rescue him; Mateo, a senator, brings Gabriel to the city and teaches him the ways of the court. White's defamiliarization of the world goes down to the level of language. Here, for example, Gabriel's early playmates ("sons of the old rural gentry") are described:
One of them had a clay pig, small enough to fit into his pocket; it whistled one dry, low note when blown on the snout. The other knew the names of stones but he was the hardest to understand. Someone's youngest brother he called "the Least One." If he doubted a story, he said, "I don't confidence you." Windows he called "lights" and their hiding place in an oak bole he spoke of as the "plunder room." Where the creek fanned out into a hundred rivulets, this child said, "That's where it turkey-tailed," and if a grown-up showed him special attention he'd ask later, "Why did he much me?" Both of Gabriel's companions spoke in doubled nouns ("biscuit-bread," "ham-meat," sulfur-match"). Nor did they grasp what Gabriel meant when he said once, "Have a nice weekend." After a while it turned out their families worked every day and the notion of a weekend was beyond their means. (p. 7)
This linguistic slipperiness carries into the courtly world, where it is carefully cultivated and put to use:
When Mathilda asked Mateo to bring Gabriel to his very first reception at her house, Mateo assumed she was merely being polite out of consideration for him, Mateo. More than once she'd assured him she knew what it was like to be stuck with a child in their nearly childless world of artists and intellectuals; after all she (with Mateo's distant if affectionate assistance) had raised a child, Daniel, who was now thirty and looked so nearly as though he were her brother that her maternity would have been suspect had not their celebrated, even infamous past together been so well documented. Nevertheless Mathilda was delighted when naïve or provincial people mistook Daniel for her brother or lover, and to increase the confusion she often referred to him coyly as "the darling." This coyness was so unlike her that people expected to catch a sardonic smile and were shocked to see instead the sort of smile people wear when they speak of their pets. What few people knew was that an older child, a girl, had died when she was four. This loss had poisoned Mathilda's joy in motherhood at the same time it had intensified her love for – no longer "my son" but "the darling." (p. 93)
The civilization that White depicts is a mannerist one: this is a book less baroque than rococo. Cultivating relationships is important, but most important is to find a language in which that relationship might be depicted. In the first chapter, Gabriel's relationship with Angelica jumps from animalic sex to a declaration to his mother that he intends to marry her (whatever that might mean to the two of them) to a marriage in her tribe's rites, which he does not understand; then he is taken away from Angelica entirely and begins to desire her while building fantasies around an invented woman. On Mateo's unrequited love for an actress:
Love is a progressive illness, one that starts as self-hallucination, an act of parody, and ends as a wholly real, involuntary malady that kills us or something vital in us. Mateo could never quite understand when or why he'd fallen so terminally in love with Edwige, but he suspected that whereas when could be answered, as least theoretically, why could not. Nevertheless he speculated at such length on his own condition he sometimes imagined that the function of love was to be a point de repère, an enigma so bright it distracted attentions from bigger fears. (p. 84)
The novel proceeds in a spiral fashion, jumping back on itself as it moves between its characters – or more precisely, between the relationships between its characters. Among its other meanings, caracole is "snail" in Spanish and Portuguese; in architecture in English, it may mean a spiral staircase. The most common English meaning is a half-turn on a horse; the OED qualifies this by noting that "Many writers have used the word without any clear notion of its meaning".