Two small books this time: the first, an illustrated edition of a short Robert Walser piece, the second, an illustrated edition of a long short story by Franz Kafka. The Kafka came out last year though I only recently found a copy; the Walser is from this year, and it's a new translation, unlike the Kafka. In terms of purely textual content, there's not much here that the devoted reader of either author wouldn't already have in some other form; but both of these small books take short pieces and stretch them out to book length, forcing the reader to slow down, an impulse that I find interesting.
---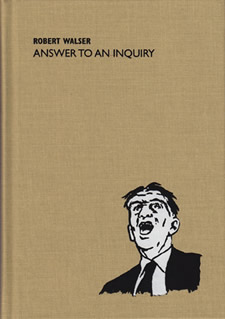 Robert Walser
Answer to an Inquiry
(trans. Paul North; illustrated by Friese Undine)
(Ugly Duckling Presse, 2010)
---
There seems to be a lot of recent Walser projects: I still have a copy of Microscripts on the pile of things to be read, and I know of a couple of other projects in the works. But this little book was near the counter of the St. Mark's Bookshop last night; I generally like Ugly Duckling if I don't follow them as obsessively as I might. This is a small book – 64 pages, the majority of the book is illustrations – short enough to be comfortably read on the subway. The text of this book is Walser's "Answer to an Inquiry" from 1907; it's followed by an essay by translator Paul North of about the same length. The text felt familiar; Golden Rule Jones points out that it's previously been translated (as "Response to a Request") by Christopher Middleton as part of Selected Stories and The Walk. In those editions, the text takes less than three pages: it's also the lead-off piece in those collections, where it's presented as a short story. It's a fine piece, and one can understand why it would be presented first: before so many other stories, though, it's likely to be forgotten by most readers.
Here it's primarily expanded through Friese Undine's illustrations. Walser's story, as its title suggests, is in the form of a letter; illustrated and given enough room to stretch out (a sentence every two pages), it becomes a sort of handbook; or perhaps a strange expressionist children's book detailing how to live in an unforgiving world. Undine's illustrations, which might be pencil drawings, seem to depict a theatrical production put on by bureaucrats; but the characters are ever-changing, and the production leads to the world: satellites circle the earth, a library full of anguished people, a bar, a mother with a homely baby. Screens (television, computer, outdoor advertising) are everywhere; and finally, things begin happening which shouldn't be happening in the theater: a snake wriggles from a man's mouth, another sticks a knife through his eye until it comes out his throat, at which point he smokes a cigarette. Walser's text was published in early 1907; but the atrocities of the twentieth century seem to be predicted in this version of the book. "Whenever humans have progressed beyond the mere struggle for physical existence," Undine writes in his brief introduction, "there has been theater and the drive towards self-destruction." Undine finds Max Ernst (The Elephant Celebes) and Antonin Artaud in Walser: this Walser is full of coiled violence and seems newly foreign, different from the dreamy man we thought we knew.
---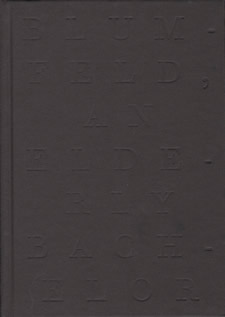 Franz Kafka
Blumfeld, An Elderly Bachelor
(trans. James Stern & Tania Stern; illustrated by David Musgrave)
(Four Corners Familiars, 2009)
---
It's easy to forget how enduringly strange Kafka is: he's been canonized, and his fictional output was small enough that there's the temptation to read it all at once. I don't know that I've actually re-read The Castle and The Trial since high school; I've been better with the short fiction and Amerika. Expanding Blumfeld to book-length is an interesting idea: it's not quite one of the canonical stories, certainly not in the English-speaking world, and as such Blumfeld is not as familiar a character as Josephine, Red Peter, or Odradek. "Blumfeld" is unfinished; there are no divisions in the text, but it seems to be the first two chapters, the first longer than the second, of a novel.
In the first, Blumfeld, who lives alone, though he wishes for a companion, is visited by a pair of animated balls: "two small white celluloid balls with blue stripes jumping up and down side by side on the parquet". The magical element goes unnoticed by Blumfeld: "They are undoubtedly ordinary balls, they probably contain several smaller balls, and it is these that produce the rattling sound" (13). Blumfeld is slightly irritated by the dancing balls; they won't leave him, and he wishes they would stop moving, or at least making noise. In the morning, the charwoman comes; Blumfeld is embarrassed of the balls, and tries to hide them from her. Leaving his apartment, he tries to pass the balls off to neighborhood children; for Blumfeld, the balls are something shameful, perhaps a sign of his status as a bachelor.
In the second part (which starts on page 57 of this edition), Blumfeld goes to work in the linen factory where he works. There's nothing magical about Blumfeld's life: the details of work swell up to take all available air, and his position (below his boss Ottomar, above two subordinates who don't have names) is clearly delineated:
But what worries Blumfeld more than this lack of appreciation [from Ottomar] is the thought that one day he will be compelled to leave his job, the immediate consequence of which will be pandemonium, a confusion no one will be able to straighten out because so far as he knows there isn't a single soul in the factory capable of replacing him and of carrying on his job in a manner that could be relied upon to prevent months of the most serious interruptions. (p. 63)
The narrative loses itself in the intricacies of the bureaucracy, moving finally to the perspectives of Blumfelds's assistants, lowest in the office food chain, who have misbehaved:
They obey at once, but not shamefaced or with lowered heads, rather they squeeze themselves stiffly past Blumfeld, staring him straight in the eye as though trying in this way to stop him from beating them. Yet they might have learned from experience that Blumfeld on principle never beats anyone. But they are overapprehensive, and without any tact keept rying to protect their real or imaginary rights. (p. 86)
The two assistants seem to mirror the two balls in the first part of the story; or perhaps Blumfeld treats the balls deferentially because he's used to treating his subordinates in the same way. "Blumfeld" seems to have been written in 1915; it seems impossible that Kafka would have known Melville's "Bartleby the Scrivener" or "The Paradise of Bachelors, and the Tartarus of Maids," though both are suggested here, as might be any of a number of Walser's works.
David Musgrave's illustration of the story start with the endpapers of the book: blue and white vertical stripes interrupted by a circle of diagonal stripes, causing optical vibrations: one appears in the front of the book, one in the back, but it's almost impossible to see both at once. Inside the book, glossy plates appear every eight pages: centered on the front and back of these are murky rectangular images that seem like they might be poorly reproduced photographs of archaeological relics. These images are small; they seem as if they might have accompanied an anthropological text of a century ago. (Samples of Musgrave's work – I don't think there's any overlap with those that appear in this book, though they're similar – can be seen at Luhring Augustine's page for him.) The most recognizable seems to be a shark tooth with a stick figure of a person carved on it; but looked at more closely, it's hard to tell if it's actually a person at all, as it's missing an arm, and the circle that should be a head is too big and vertically bisected. Others suggest animals, but aren't quite recognizable; one feels that there's an intelligence behind these relics, but it can't quite be understood. If these were anthropological illustrations, they're missing the necessary captions.