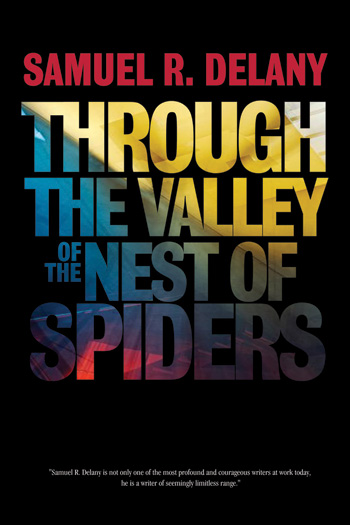 Samuel R. Delany
Through the Valley of the Nest of Spiders
(Magnus Books, 2012)
Through the Valley of the Nest of Spiders is Delany's biggest book (bigger than Dhalgren), and seems to have attracted relatively little attention, as might be the case with most of Delany's late fiction. The barriers to critical attention are clear: much as in The Mad Man, there's a lot of gay sex in this book described in minute detail which many reviewers seem to have found offensive. There's more science fiction here than in The Mad Man or Dark Reflections, probably not enough to keep a sci-fi audience happy, but enough to leave a "literary fiction" audience, should such a thing exist, unsettled. And it's a big book, at 800 pages.
Towards the end of The Mad Man, the protagonist's lover describes his rural upbringing in some detail; that vignette, a hypersexual male society outside of the realm of conventional morality might form the basis for this book. Incest and pedophilia, both presented as consensual, figure strongly, as do lovingly applied racial epithets. But again, Delany's attempt is not to shock; rather, it's to present a modern version of the pastoral. (Guy Davenport's stories of young Danish philosophers living according to Fourier are the clear antecedent.) Instead of shepherds, Delany's protagonists are garbage men, and their Arcadia is a place on the coast of Georgia called Diamond Harbor; the novel starts in 2007 and goes forward seventy years.
The title refers to William Blake's The Marriage of Heaven and Hell: early, a minor character advises the protagonist that
"To be sure, the Road of Excess leads to the Palace of Wisdom, even when it takes you through the Valley of the Nest of Spiders. . . ." (p. 20)
There's no Valley of the Nest of Spiders in the "Proverbs of Hell," of course. Delany's referring more directly to another section of Blake's book, "A Memorable Fancy":
An Angel came to me and said: 'O pitiable foolish young man! O horrible! O dreadful state! consider the hot burning dungeon thou art preparing for thyself to all eternity, to which thou art going in such career.'

I said: 'perhaps you will be willing to shew me my eternal lot & we will contemplate together upon it and see whether your lot or mine is most desirable.' . . . .

By degrees we beheld the infinite Abyss, fiery as the smoke of a burning city; beneath us at an immense distance was the sun, black but shining; round it were fiery tracks on which revolv'd vast spiders, crawling after their prey; which flew or rather swum in the infinite deep, in the most terrific shapes of animals sprung from corruption, & the air was full of them, & seem'd composed of them; these are Devils, and are called Powers of the air. I now asked my companion which was my eternal lot? he said, between the black & white spiders.

But now, from between the black & white spiders, a cloud and fire burst and rolled thro' the deep, blackning all beneath, so that the nether deep grew black as a sea & rolled with a terrible noise . . . (p. 18)
Blake's protagonist justifying his way of life to the Angel is mirrored in Eric's explanation to his Shit, his faun-like partner, of what he wants to do with himself now that he has left conventional society and suddenly found himself living in a place where all his desires have been satisfied:
"You know what I'd like to do?"

"What?"

"I wanna try bein' a really good person – 'cause I'm so happy and get to fuck and suck so much." He glanced over. "I didn't tell her about the sex part and what that had to do with it. But that seems like a good reason."

"Yeah?"

"Yes. So that's what I'm gonna start doin'."

"I think you're a pretty good fella already. You make our fuckin food damn near every night. Howw much better you got to be?"

"As good as I can. I mean, I'm gonna have to put a little thought into it. But I'll think of somethin'. You be as satisfied as I am, and it's just a shame to waste it all on yourself and get too lazy . . ."

"Well, that's gonna be interestin'. A really good person, huh? Am I supposed to give you a hand?"

"I'm serious, Shit." (pp. 253–4)
What's left is to concentrate on living ethically. Note the order: personal improvement only becomes possible after a better society is achieved. Diamond Harbor, it is worth noting, is meant to exist in the present: the largess of the Kyle Foundation, a millionaire's project to better the lives of the gay black men he loves, has shaped the area into a paradise; the area is rural enough that it attracts little attention from the outside world. (Eric and his friends find out about Obama's election the next day in a call from his mother; porn theaters still operate and find a clientele as described in Times Square Red, Times Square Blue.) New technology appears, but its intrusions and effects are minimal.
Near the end of his life, Eric thinks to himself:
With the Kyle Foundation to fight for us, we never had to fight for anything, really. Everything was arranged, from salary to security. It did a good job of taking care of us – and we all thought that was good. Did that allow us to be good or just .nbsp;.nbsp;. superfluous? (p. 749)
Through the Valley of the Nest of Spiders is almost entirely free of conflict. Eric spends much of the second half of the book re-reading Spinoza's Ethica, almost the only book mentioned here; Shit is pointedly illiterate. Time speeds up as the book progresses; a love story between two boys becomes a love story between two old men. Society as a whole isn't utopian: near the end of the book, a few scenes make it clear that while society is more progressive than it was, it's still imperfect. The reader's left thinking of the end of Candide.